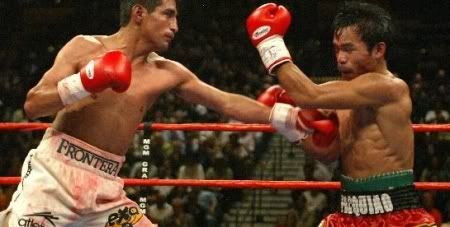 It is always good when a country has its heroes. It gives the people a sense of national pride, and an identity and persona for them to emulate and aspire to. Heroes, like history, are important components of nationalism.
And Manny Pacquiao has become a reminder to all of us that there is much pride — much hope — in being a Filipino. That is why every match of his has become a blockbuster. People wait for the inevitable knockout, the raising of the flag, and the Pacman's closing words, "Para sa bayan ang laban kong ito!" (This fight is for my country!)
The problem with the Philippines however, is that we tend to destroy our heroes. We turn them into idols. We raise and rest them on a pedestal only to wait for them crash to the ground. Just look at the fate of all our celebrities and politicians here. We destroy them because we have these extraodrinary hopes that they bring with them the cures to all of our society's ills and thus they are thrusted in the limelight, into showbusiness, into politics.
And in these new arenas they are radically transformed until we no longer recognize them and thus find no other recourse but to despise them. Those who vote for Manny Pacquiao in the upcoming elections have no idea how badly they're damning their greatest hero.
I remember clearly how Pacquiao was everybody's "People's Champion" when he began, and I believe we have all seen how he became the "Corporate Champion" he is these days. It is no surprise to me why so many people scorn him now, while so much more remain avid fans.
A student of mine likened this to the idol worship done for FPJ. However, I would like to say that in my opinion, Pacquiao is even bigger than FPJ. His popularity isn't limited to the lower classes of society. Everyone from Rockwell to Romblon, Shangri La to Sulu, Greenbelt to Gabaldon was watches this guy whenever he fights. Even most of the haters I am sure, glanced at the match just to say, "Nah, he'll lose." And when he won? "Nah, the other guy was outmatched."
Personally, I respect the guy but I also pity him. I don't count myself among his loyal fans but I love to see him box. On the other hand, I hate his songs and abhorred his movie but I don't belong to the hater camp who condemn him for his commercial success. I know a success story when I see one, and Manny has got it made. However, I wouldn't hate Manny Pacquiao for becoming Money Pacquiao. At least, not him alone.
When seen as a hero, Manny Pacquiao is an inspiration to many Filipinos. During a rerun of one of the older Pacquiao matches, I caught myself in the driver's waiting area in one of our malls in Makati. (Yes, I was a driver and yes, I was waiting.) I overheard some conversations go, "Grabe, ang layo na ng narating ni Pacquiao, no?" ("Pacquiao has gone a really long way, hasn't he?")
"Oo nga eh. Mag-boxing na lang kaya tayo!" ("Yeah. Why don't we just go and box!")
"Sira ka pala eh. Hindi naman natin magagawa yang ganyan." ("You're crazy. We can't do what he does.")
"Oo nga eh. Kaya idol talaga natin yan!" ("Yeah. That's why he's our idol!")
And the other day, I had a conversation with our driver about Pacquiao's fortunes. I was impressed to not find a single tone of resentment in my companion's voice when I told him about Manny's mansion.

"Ang galing niya no? Naabot niya yung kanyang mga pangarap." ("He's good isn't he? He was able to achieve his dreams.")
I know this isn't a representative sample of the entire Filipino population by far, but one only needs to look at news reports to see how these sentiments are echoed throughout the archipelago. He is an uplifting force even though he sets an impossible standard. His victories make people feel good about themselves but whether they motivate these people to be better? Only time will tell. It cannot be denied that he truly is a viable idol for our people, and therein lies the tragedy.
Now, he's running for public office.
No thanks in part to the machinations of a tight group of politicos invested in Manny, and greater no thanks to the hero status a lot of people have accorded to the Pacman. It is just that here in our country, heroism is hollow. (Case in point, government calls OFWs "heroes". They're more martyrs really because they don't have to do what they have to do if our government would have it any other way.) So in what could be a true symbol of hope and pride, people only see popularity, votes and concessions in Manny Pacquiao.
People in General Santos are hopeful that Manny Pacquiao can break the vicious cycle of political dynasties and land grabbing. That would be a reality if Pacquiao is of an independent political mind. As I see it, he is still too vulnerable and can be easily manipulated by the same political dynasties the people of General Santos wishes he would knock out.
That is the consequence of having no political education. I won't easily shrug it off like most of his supporters with a simple, "So what?"
This is what: Manny's rise into Congress will signal his downfall. He is unequipped, unprepared and unrealistic if he thinks that he can take on the task of legislating laws for the country with but an honest passion, a fresh high school diploma, and a boxing championship.
Is it possible that this isn't a choice he made? That is what scares me even more.
There will never be too many people in this country willing to take advantage of the popularity of the Pacman, and in that case he isn't that different from a billboard. He's advertising space and boosted revenue. People listen to him, and advertisers are only too eager to cash in. Where once there was a hero, there is only a poster boy. People rush to be like the Pacman and interested parties from businessmen to clergy to politicians, rush to make a killing.
But to be fair, I wouldn't want to totally discredit his good intentions to make a difference — if indeed to run is his choice. If he insists on 'serving his people' through politics, I would recommend to Mr. Pacquiao that he takes on an executive position in the local level. Running for mayor would actually be fine (but not entirely alright), while going for governor might be too much to soon. Considering his line of work, local concerns will be more manageable for him.
But congressman? Not now. National politics is a different beast. And though he can outlast 12 rounds of boxing, Philippine politics will eat him alive.
And here we see a double effect: as Manny becomes more popular, more people learn to hate him. He is seen more as an endorser of crass commercialism and hypocrisy than as an icon of sportsmanship and perseverance that he was when he began. There was a time when everyone was one behind the Pacman and he had great potential to be the Philippines' ambassador to the world. Now the entire world knows him as a congressional candidate, and a lot of Filipinos would rather have none of it.
There seems to be some genuine resentment for the guy these days. I've encountered comments such as, "He says he fights for the country, but it's all about the money really." And "If he's a serious boxer, then he doesn't need all those commercials." "He doesn't need politics."
I agree with those statements, but I have realized that most of the time, it isn't Manny's choice to make — especially when he doesn't want to. People have extraordinary hopes and expectations for him, and this turns him into someone he isn't. That is the amount of pressure and stress often layered on "heroes", and in Pacquiao's case, it can be a heavier burden since the Filipino people expect much more from him. Life in the spotlight leaves you blind.
Now whenever Pacquiao fights, there is this part of me who wants him to lose. (I wouldn't bet against him though.) I wouldn't want to deny our people their hero, but I wonder what they would feel upon realizing that their idol isn't as invincible as they thought. I imagine it to be quite humbling.
The ultimate tragedy of living in a country with a poverty of heroes is that we struggle to find heroes to teach us what is possible, but only end up forming idols from whom we expect the impossible. In one sense, this speaks of the character of the 'hero' itself which I will go into in the future on a separate commentary.
In another sense it is inevitable in a society where a large segment seeks inspiration from a figure who can also provide all that they seek. Yet I still often wonder how much they really expect from Manny Pacquiao, and at times think that a defeat — either in the ring or in the polls — will indeed humble all. But come to think of it, even that may be too much to ask.