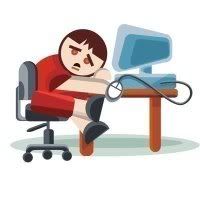 A wave of fatigue has engulfed the students and teachers of the PSHS. Humanities Week has just finished but it feels like the hard work will never end. Most of us ask, "When will it?" While I think more of us rather not ask anymore.
A lot of the Humanities teachers are either sick or recovering from stress-related sickness, while they and everyone else have to deal with picking up the pieces of all the lost time and classes. We have the second periodic exam in a couple of weeks and yet it feels like the quarter barely passed by. Actually, it did. We just never had the time to notice. The next two weeks will be daunting with all the rushed or trimmed down lessons on top of the torrent of requirements we feel obliged to give our students. These are the rare moments when we find it hard to feel proud of what we do because if we do, then it is like following Hitler's orders to pull the lever in Auschwitz.
I totally feel for my students. I think it is becoming my weakness now, this soft spot I have. I should stop moving deadlines and delaying announcements of requirements. But how can I, when they just have so much to do? I've made it a silent promise at the beginning of the year that my students will learn. Right now, the only thing that seems likely is that they will learn to hate school. Their dharma is heavy, their karma is grim: they finish one requirement only to be fed the next. Some would say ganyan talaga — that's the way it is. Others would argue that it's for their own benefit. It will make them stronger. Really? Stronger for what? For the future. Because it never ends for us.
I disagree. It never ends for us because we never learn to be contented and satisfied. What I see now is a modern ethos where we don't have the time to happy and content with our work because once we're done with one, we're off to start the next. And the next. And the next. And so on. Whatever happened to accepting things as they are? To being confident of the things we can change? To being accepting of things we cannot? Apparently all are forgotten in a world where more never seems to be just right, and our best isn't good enough.
I apologize for ranting. This wave of fatigue I saw earlier was truly unsettling. On top of that, our students have more and more long tests and requirements to come. I hold my breath for them; I really do. At the end of the year, I'd love to tell my students to do what they love, but I wonder how relevant that message is when most of the time they are made to things they don't even want or need to do.
Nonetheless, I continue to believe in them. They are the ones who make my work worthwhile and it is because of them that I can confidently say that I love what I do. I believe that they can ride out this rough wave they're on right now. And so will I.
I'd love to reform our school system to give you less homework, less exams, less subjects and more time for fun but that will take a while — maybe once I have my degree in Public Policy. So for now, party, watch movies, rock out at concerts, read books, write novels, play video games, play a sport, make some music, go shopping, shoot a movie, go on dates, fall in love, live your life — but all in the right time.
I'd love to make the world a better place for our children's children, but I'd like to start with mine.