Updated with a video, thanks again to Benj!
Over at Filipino Voices, Benj wrote a glowing review of Gian's win at the ESU and what it means for everyone else. He even posted a copy of Gian's speech at his blog, Atheista.net.
It's amazing how big a phenomenon Gian has become. For me, he will always be that angsty, moody yet exceptionally driven and brilliant teenager who starred as this emo kid in their final project for Pisay Meets World. I've seen that photo of him in barong in the newspaper, but it is this photo with him front and center, that will always capture the Gian I know: leader, actor and prolific writer.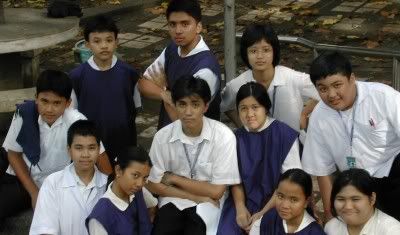 It doesn't hurt that as a student, he was exceptionally easy to teach and effortlessly topped my class. But now, for all those who read and followed his story from Manila to London, Gian is a symbol. Indeed, there is tremendous symbolic power in a countryman's — especially a young, promising countryman's — achievement that just stirs a deep sense of pride and joy deep within us. Benj couldn't ask it better — What were you doing when you were sixteen years old?
I can't recall what I did when I was sixteen; I was that unremarkable. So I've always told my students that while there are people born into greatness, there are times when greatness is thrust upon you. We just have to pick our moments, and run with it when it comes. Gian, your time has come.